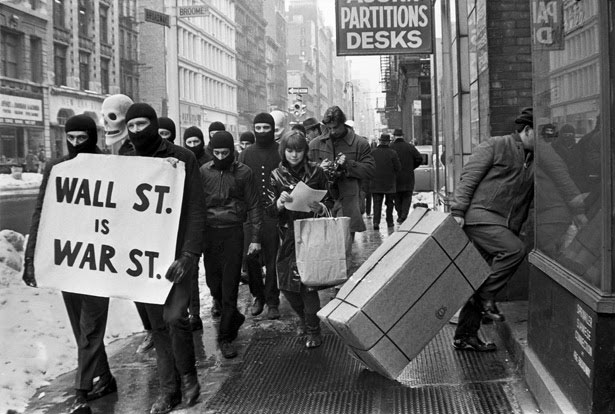 Larry Fink, Black Mask, 1967. Inkjet print, 13 x 19 inches. Courtesy the artist.
Cantor Fitzgerald Gallery, Haverford College
if I can't dance to it, it's not my revolution
March 21–May 2, 2014
Opening reception: Friday, March 21, 5:30–7:30pm
Cantor Fitzgerald Gallery
Haverford College
370 Lancaster Avenue
Haverford, PA 19041
www.exhibits.haverford.edu/ificantdancetoit
Curator: Natalie Musteata
if I can't dance to it, it's not my revolution is the first exhibition to investigate on a large scale the political movement of anarchism through counter-cultural artistic practices in Europe and North America from the 1960s to the present.
Taking as its starting point a maxim by the anarchist feminist Emma Goldman, the exhibition is organized around three interlinked thematic platforms: Horizontality considers the concept of a de-hierarchized model of thinking and making; Black addresses the relationship between insurrectionary tactics, such as "black blocs," and the struggles of African Americans to gain civil liberties; and Free Love explores a social movement and philosophy that seeks freedom from any social institution (such as marriage), state regulation, or creed impinging on relational or sexual matters.
Each platform features archival documentation, major installations by self-identified anarchist artists, and works that at once affirm and complicate strategies of disruption and resistance. Bringing together artists and free thinkers who work at the intersection of art and anti-authoritarian social movements, if I can't dance to it explores the in-between space of—that is, the tensions that bind, as well as divorce—aesthetics and political praxis, and the principles of decentralization, collective authorship, and continual experimentation.
Publication
The exhibition is accompanied by an illuminating and unusual publication designed by Project Projects, featuring visual materials and critical essays by Allan Antliff, Adrian Blackwell, Josh MacPhee, Ernest Millner-Larsen, Nadja Millner-Larsen, and Natalie Musteata.
Artists
Elena Bajo, Bernadette Corporation, Adrian Blackwell, Black Mask, Lizzie Borden, Andrea Bowers & Olga Koumoundouros, John Cage, Christopher D'Arcangelo, Gayle "Asali" Dickson, Emory Douglas, Sam Durant, Larry Fink, Claire Fontaine, Luis Jacob, John Jordan & Isabelle Fremeaux & Kypros Kyprianou, Kanonklubben, King Mob, The Living Theater, Jackson Mac Low, Sherry Millner & Ernest Larsen, Raymond Pettibon, Carolee Schneemann, Aldo Tambellini
Film series at Chase Auditorium, 7pm
– Born in Flames, with filmmaker Lizzie Borden: Thursday, February 27
– Get Rid of Yourself, with independent scholar Anna Komar: Thursday, March 20
– Paths Through Utopia, with filmmakers John Jordan and Isabelle Fremeaux: Wednesday, April 9
Public programs
– Gallery talk, with Natalie Musteata, curator of the exhibition, at Cantor Fitzgerald Gallery: Friday, March 21, 4:30–5:30pm
– Lecture, "Aesthetics and Anarchy" by distinguished visitor Allan Antliff (Canada Research Chair in Modern and Contemporary Art, University of Victoria) in Stokes 102: Tuesday, April 8, 4:30pm
Presented by the John B. Hurford '60 Center for the Arts and Humanities in conjunction with the faculty seminar "The Anarchist Tradition, Revisited." Additional support provided by the Distinguished Visitors program of Haverford College.
Press contact
Matthew Seamus Callinan, Associate Director, Cantor Fitzgerald Gallery and Campus Exhibitions,
Esta dirección de correo electrónico está siendo protegida contra los robots de spam. Necesita tener JavaScript habilitado para poder verlo.