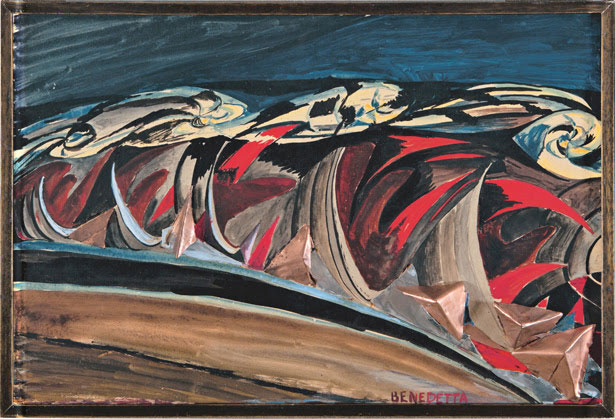 Benedetta (Benedetta Cappa Marinetti), Lights + Sounds of a Night Train (Luci + rumori di un treno notturno), ca. 1924. Oil on canvas with copper elements, 49.5 x 66.5 cm. Collection of Luce Marinetti, Rome. © Benedetta Cappa Marinetti, used by permission of Vittoria Marinetti and Luce Marinetti's heirs. Photo:
Studio Boys, Rome.
Solomon R. Guggenheim Museum
Italian Futurism, 1909–1944: Reconstructing the Universe lectures
Emily Braun:
"Touch without Sight: Futurist Tactilism"
April 1, 2014
Christine Poggi:
"Ivo Pannaggi, Arte Meccanica, and the International Avant-Garde"
May 7, 2014
Lucia Re:
"War, Women, and Sexuality in the Futurist Avant-Garde"
May 20, 2014
Solomon R. Guggenheim Museum
1071 5th Avenue (at 89th Street)
New York City
www.guggenheim.org/calendar
In conjunction with Italian Futurism, 1909–1944: Reconstructing the Universe, on view through September 1, 2014, the Guggenheim Museum presents a lively lecture series featuring distinguished scholars of Futurism and authors who contributed to the exhibition catalogue. This multidisciplinary exhibition, the first comprehensive overview of Italian Futurism to be presented in the United States, examines the historical sweep of the movement from its inception with F. T. Marinetti's first Futurist manifesto in 1909 through its demise at the end of World War II. Presenting more than 360 works, the presentation encompasses not only painting and sculpture, but also advertising, architecture, ceramics, design, fashion, film, free-form poetry, music, performance, photography, publications, and theater. Each lecture is followed by a private exhibition view and reception.
"Touch without Sight: Futurist Tactilism"
Tuesday, April 1, 6:30pm
Emily Braun, Distinguished Professor, Hunter College and the Graduate Center, City University of New York (CUNY)
In 1921 F. T. Marinetti announced a new direction in Futurist artistic practice with the presentation of his first tactile panels on the stage of the Théâtre de l'Œuvre in Paris. He followed this with two manifestos: "Tactilism: Futurist Manifesto" (1921) and "Toward the Discovery of New Senses" (1924). Tactile panels were composed of variously textured materials whose qualities were to be understood solely by touch; participants were blindfolded or otherwise temporarily deprived of sight in a "journey of the hands." The art of touch had been fleetingly explored in anarchist and Dada circles in New York just before World War I. As this lecture will document, Marinetti's Tactilism had specific roots in his personal experiences of trench warfare, the educational methods of Maria Montessori, and contemporary experimental psychology. Marinetti's creative endeavors always had an ideological agenda and his Tactilism was no exception; nor was it intended as merely another form of avant-garde provocation. Instead, his emphasis on touch and its curative effects acknowledged the vulnerability of the "human machine" in the aftermath of the Great War.
"Ivo Pannaggi, Arte Meccanica, and the International Avant-Garde"
Wednesday, May 7, 6:30pm
Christine Poggi, Professor of the History of Art, University of Pennsylvania
In 1922 Ivo Pannaggi and Vinicio Paladini published their "Manifesto of Futurist Mechanical Art," launching postwar Futurist debates on the role of the machine in modern life and art. This lecture considers the Futurist cult of the machine as it developed in the 1920s, expanding to include painting, theater design and costumes, advertising, graphics, and architectural decor. Focusing especially on Pannaggi, Christine Poggi situates his Futurist work in relation to international avant-garde movements, including Purism, De Stijl, Constructivism, and the Bauhaus. Along with his paintings and graphic designs, Pannaggi's costumes and sets for Ruggero Vasari's Futurist play The Anguish of the Machines, his photomontages, and his interior decorations and furnishings for the Casa Zampini near Macerata situate this artist at the nexus of artistic currents of his time.
"War, Women, and Sexuality in the Futurist Avant-Garde"
Tuesday, May 20, 6:30pm
Lucia Re, Professor of Italian and Gender Studies, University of California, Los Angeles (UCLA)
This lecture offers an introduction to some of the most important female Futurist writers and artists who emerged during World War I and contributed to the journal L'Italia Futurista. Lucia Re also discusses the debate about women's roles, sexuality, and gender equality that arose in conjunction with the publication of F. T. Marinetti's wartime seduction manual How to Seduce Women (Come si seducono le donne, 1917).
Guggenheim blogs
Also accompanying the exhibition Italian Futurism, 1900–1944: Reconstructing the Universe is a series of exhibition-related posts on the Guggenheim's Checklist blog. Written by curators, academics, and other authorities in the field, the series illuminates topics specific to Futurism, including the representation of the movement by British cartoonists, Fortunato Depero's work in advertising, and the Futurist fascination with vehicles and speed.
Tickets and information
Visit guggenheim.org/calendar or call the box office at +212 423 3587.
A limited number of free student tickets are available with advance RSVP and valid student ID.
For the complete schedule of exhibition programs, visit
www.guggenheim.org/futurism