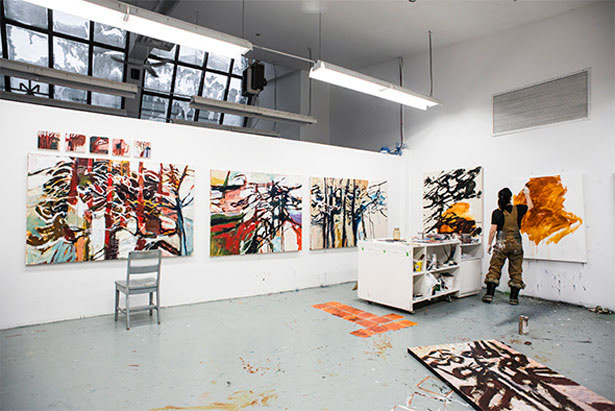 Artist Amy Dryer working in her studio. Courtesy of The Banff Centre.
The Banff Centre
Call for applications: fall visual arts residencies
The Banff Centre
Office of the Registrar
107 Tunnel Mountain Drive
Box 1020
Banff, Alberta
Canada T1L 1H5
Esta dirección de correo electrónico está siendo protegida contra los robots de spam. Necesita tener JavaScript habilitado para poder verlo.
www.banffcentre.ca
Thematic residencies
In our inspirational thematic residency programs, artists, curators, and other arts professionals come together to focus on a specific theme. Through peer interaction, discussion groups, studio work, formal lectures, and studio visits from world-renowned visiting artists and curators, participants gain new ideas and insights that can be applied to creative exploration and the development of their work.
Thematic Residency with the Institut français
November 3–December 12, 2014
Apply by: May 21
Lead faculty: Céline Kopp, with guest artists to be announced.
The Banff Centre is partnering with the French Embassy in Canada and the Institut français to promote the creation of contemporary visual art through an annual residency program. This year's residency will be led by French curator Céline Kopp, the director of Triangle France; France's oldest artist-run space and non-profit contemporary arts organization based in Marseilles. Her recent curatorial projects include the first European solo exhibition of Liz Magor's work, with a soon to be released publication.
Visit our website to find out more and apply.
"In Kind" Negotiations with Raymond Boisjoly
November 3–December 12
Apply by: May 21
Lead artist: Raymond Boisjoly, with guest artists Arnold Joseph Kemp, Joar Nango, and others.
Where we were is no longer where we are, and where we will be is not yet. Raymond Boisjoly will facilitate a residency for artists interested in what it means to question "in kind." This program will offer artists the opportunity to discuss, explore, and understand the questions informing the practices of their fellow participants in proximity to their own concerns.
Raymond Boisjoly is an artist of Haida and Québécois descent. Boisjoly's practice operates as active speculation; engaging issues of aboriginality, language as cultural practice, and the experiential aspects of materiality.
Visit our website to apply.
Banff Artist in Residence (BAiR)
Banff Artist in Residence programs offer independent periods of study where artists, curators, and other arts professionals are free to experiment and explore. Participants are provided with an individual studio accessible 24 hours a day, as well as use of our world-class visual arts facilities including printmaking, papermaking, ceramics, sculpture, and photography. BAiR offers short and long-term opportunities to work away from the constraints of everyday life.
Late fall BAiR
November 3–December 12
Apply by: May 21
Early winter BAiR
January 19, 2015–February 27, 2015
Apply by: June 18, 2014