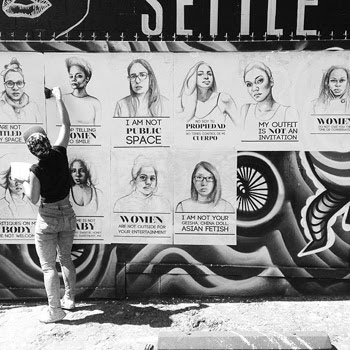 Tatyana Fazlalizadeh, Stop Telling Women To Smile, 2014–ongoing. Wheat pasted public art series, dimensions variable. Photo: Tatyana Fazlalizadeh.
New York City Council
GIRL POWER: Taking Back the Streets through Art
Sunday, June 8, 2014, 1:30-4:30pm
Fort Greene Park
at Myrtle Avenue and Washington Park entrance
Brooklyn, New York
Women have long been the artistic founders and community builders of our neighborhoods. As temperatures climb with the onset of summer, rates of street harassment also increase, effectively limiting women's and girls' ability to contribute to and participate in various aspects of civic and community life.


Thus, in an effort to fuse grass roots art activism and municipal advocacy, GIRL POWER: Taking Back our Streets through Art promises an opportunity for young women and girls to channel their assertive voices, create powerful statements and spark dialogue around their experiences with street harassment. As a longtime advocate for both the city's youth and women's issues, NYC Council Member Laurie A. Cumbo will host this event in conjunction with artist Tatyana Fazlalizadeh whose art has appeared across the national and international landscape and Hollaback!, a nationwide organization leading the movement to end street harassment.
From a community forum discussing the meaning of girl power to active poster design featuring messages of female empowerment such as "my outfit is not an invitation" and "stop telling girls to smile," this event will explore the link between art, social change, and female empowerment. "We have evolved as a society, and there is no place for catcalls, lewd gestures, inappropriate language and unwarranted comments about the physical characteristics of a woman's body," says Council Member Cumbo.


"Women need to start talking about their daily moments because it's the smaller stuff that affects the larger things, like rape, domestic violence, harassment in the workplace…women's bodies are consumed and are considered public property for display, comment and consumption," says Tatyana Fazlalizadeh.


"You are hard pressed to find a women in this city who has never been street harassed, and young women are most at risk. When we tell young women to 'ignore it,' we're paving the way for street harassment to continue. We're here today with Council Member Cumbo and Stop Telling Women to Smile because we want everyone to understand: street harassment isn't the price you pay for being a women or being gay in New York City," says Emily May, Executive Director, Hollaback!


A recent report from the Center for Disease Control and Prevention classifies street harassment, specifically intrusive comments, groping, flashing, and leering as a national public health concern and as the most prevalent form of sexual violence today for women across the globe. Moreover, research indicates that between 70–99% of women experience street harassment at some point during their lives (Hollaback!). Most importantly, the consequences of such unwelcome and detrimental behavior include depression, anxiety, and post-traumatic stress disorder, sleep disorders, and reduced sense of safety in public, which in turn can limiting earnings of women and girls, decrease self-esteem, decrease physical mobility, and interrupt women and girls' ability to engage with civic life.
To address this insidious issue, let's stand together in skirts and shorts unafraid of harassment to declare that such behavior has no place on our streets, in our schools, or in our communities. Instead, let us foster an environment where women and girls are safe to express themselves freely in dress, in speech, and in art. Join us in our day of celebration of sisterhood and safety this Sunday, June 8, 2014 from 1:30 to 4:30pm at Myrtle Avenue and Washington Park, Brooklyn, New York.
The Council Member is a Democrat and is an aggressive champion of women's issues, youth empowerment, affordable housing, arts and culture, and senior citizens' rights, among many other priorities. The Council Member represents the 35th district, which includes the Brooklyn neighborhoods of Fort Greene, Clinton Hill, Crown Heights, Prospect Heights and Bedford Stuyvesant.