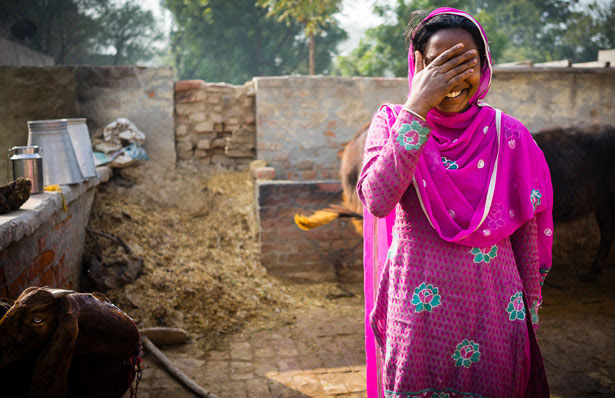 William Vázquez, The Power of a Smile, from the "India" series, 2014. Courtesy of the artist.
School of Visual Arts (SVA)
Art in the First Person, fall 2014
School of Visual Arts
209 East 23rd Street
New York City
School of Visual Arts presents the fall 2014 lineup of its popular Art in the First Person lecture series. This season's schedule features more than 20 talks with acclaimed artists, curators, designers, scholars and writers—on topics ranging from architecture to war-zone photography—and is jointly presented by the MFA Art Practice, MPS Digital Photography, BFA Fine Arts, MFA Fine Arts, BFA Photography and BFA Visual & Critical Studies departments. All events are free and open to the public.
School of Visual Arts has been a leader in the education of artists, designers and creative professionals for more than six decades. With a faculty of distinguished working professionals, a dynamic curriculum and an emphasis on critical thinking, SVA is a catalyst for innovation and social responsibility. Comprised of more than 6,000 students at its Manhattan campus and 35,000 alumni in 100 countries, SVA also represents one of the most influential artistic communities in the world. For more information about the College's 32 undergraduate and graduate degree programs, visit sva.edu.
Deborah Goldberg
"Isamu Noguchi: Visionary Designer"
Monday, September 8, 6:30pm
Alison Zavos, Editor-in-Chief of FeatureShoot.com
Tuesday, September 9, 7pm
Rosalind Solomon, with Charlotte Cotton
Tuesday, September 9, 7pm
Alaina Claire Feldman, Rujeko Hockley, David Everitt Howe, Jenny Jaskey, Piper Marshall, Jovana Stokic, Chris Wiley
"Curators: The Younger Than Jesus Effect"
Tuesday, September 16, 6:30pm
Pablo León de la Barra, with Carla Stellweg
Monday, September 22, 6:30pm
Ben Lowy
Tuesday, September 23, 7pm
Angel Nevarez
Tuesday, October 7, 6pm
Robin Schwartz
Tuesday, October 7, 7pm
Galia Solomonoff
Monday, October 13, 6:30pm
A. K. Burns
Tuesday, October 14, 6pm
Terry Boddie
Tuesday, October 21, 7pm
Isaac Diggs and Edward Hillel, with Vicky Goldberg
Monday, October 27, 7pm
Petah Coyne
Tuesday, October 28, 6pm
Alix Pearlstein
Tuesday, November 4, 6pm
Cig Harvey
Tuesday, November 4, 7pm
"Museums and Radical Politics: 1969 Revisited"
Monday, November 10, 6:30pm
Gianni Jetzer
Tuesday, November 11, 6pm
Susan Silas
Tuesday, November 11, 7pm
"Surveillance Photography: Personal, Public and Profit"
Wednesday, November 12, 7pm
Susan Craine, Moon (a.k.a. Alex Lowery), Katy Rubin, Heidi Schmidt
"No Fixed Address: Art as an Advocacy Tool for the Homeless"
Monday, November 17, 6:30pm
Thyrza N. Goodeve
Tuesday, November 18, 6pm
William Vázquez
Tuesday, November 18, 7pm
David Row
Tuesday, November 25, 6pm
Kate Gilmore
Tuesday, December 2, 6pm
Media Farzin
Tuesday, December 9, 6pm
Susan Bright
Tuesday, December 9, 7pm
"'Zombie' Formalism and Other Recent Speculations in Abstraction"
Wednesday, December 10, 7pm