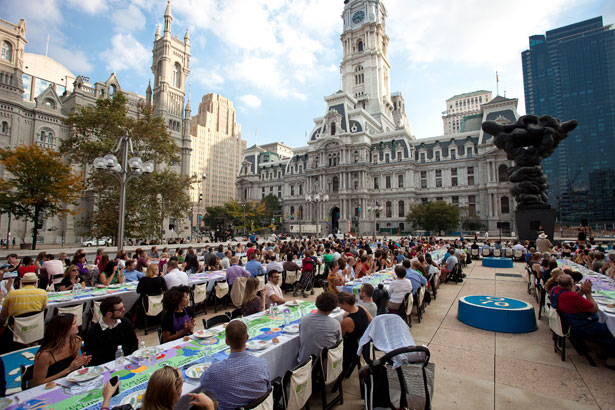 The Meal
, 2012. Courtesy of City of Philadelphia Mural Arts Program. Photo: Steve Weinik.
Moore College of Art & Design
Graduate studies: apply now
Application deadline: February 1, 2015
Moore College of Art & Design
20th Street and The Parkway
Philadelphia, PA 19103
www.moore.edu
MA in Art & Social Engagement
Launching in summer 2015, this program will prepare candidates seeking to facilitate socially engaged art experiences with the critical, historical, practical and ethical skills needed to work in complex community settings. Presented in partnership with the City of Philadelphia Mural Arts Program.
MA in Art Education with an Emphasis in Special Populations
This one-of-a-kind graduate program is designed for working art educators who are passionate about teaching all students, especially those with disabilities. This program prepares candidates to critically assess and challenge existing art education policies and practices by fostering on-site research where candidates develop and test innovative and adaptive teaching strategies in a professional field placement. The program is offered in a hybrid delivery that includes students completing program requirements both on-campus and online.
MFA in Community Practice
Launching in summer 2015, this program will focus on the intersections of studio and community-based art making with a strong emphasis on collaborative authorship, social justice, and the role of place as a force in shaping art practices. Presented in partnership with the City of Philadelphia Mural Arts Program.
MFA in Interior Design
Located in the heart of Philadelphia's rich architectural resources and strong professional community, this low-residency program serves both career-change candidates and those with industry proficiency. Providing a strong foundation in design and technical skills, this rigorous program also prepares candidates to enter the profession with a required internship and an individualized, research intensive thesis.
MFA in Studio Art
Moore has a proud legacy of educating artists from around the globe. Matched by world-class instruction and rigorous studio practice, candidates' creative perspectives are crystallized, expressed and, sometimes, forever changed. Moore's connected art school experience inspires them to explore and extend their perceived boundaries on a local level daily and, internationally, through the program's residency in Burren, Ireland.
Moore College of Art & Design educates students for careers in art and design. Founded in 1848, Moore is the nation's first and only women's visual arts college. Moore's career-focused environment and professionally active faculty form a dynamic community in the heart of Philadelphia's cultural district. The College offers ten Bachelor of Fine Arts degrees for women and since 2009, five coeducational Graduate Studies programs. In addition, Moore provides many valuable opportunities in the arts through The Galleries at Moore; Continuing Education programs for professional adults; the acclaimed Youth Programs for young people grades 1–12, which was founded in 1921; The Art Shop and the Sculpture Park.