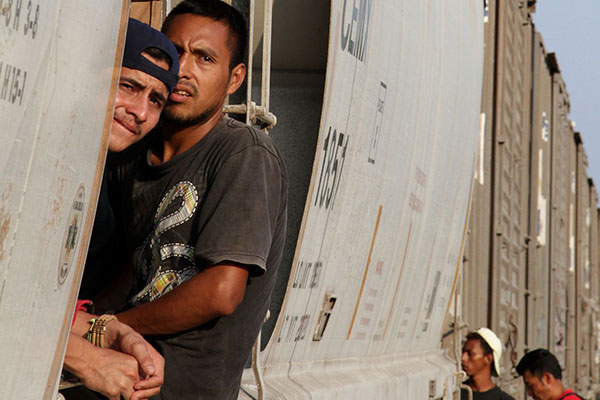 Photo/Foto: Moysés Zúñiga Santiago
Summer 2015 Course | "Art, Migration, & Human Rights"
San Cristóbal de las Casas, México
July 27–August 14, 2015
Course taught by Diana Taylor & Marcial Godoy-Anativia
Workshop taught by Jesusa Rodríguez
The crisis around migration in the Americas has reached epic proportions. This course, "Art, Migration, & Human Rights," will explore the violence resulting from dictatorships, neoliberalism, and trafficking of drugs and humans, which has led to an increase both in migration and in the violence that migration itself produces. Taking place in Chiapas, Mexico, the course will introduce participants to the various groups that intervene in the crisis: the Zapatistas, journalists, photographers, filmmakers, human rights activists, scholars, artists, and others who try to bring international attention to the situation and help mitigate the violence. In addition to interacting with local artists and activists, the course will examine current scholarship that explores the history, politics, and potential outcomes of the current situation. Jesusa Rodríguez will lead an intensive performance-activist workshop as part of the course, which will culminate in a collective project that brings together scholarship, art, and activism on these urgent topics.
We invite students from all member institutions of the Hemispheric Institute to apply. NYU students may take the course for 4 points of graduate credit through the Department of Performance Studies, and students from other institutions can take the course for credit as an independent study in their home universities. Students from non-member institutions will be considered for admission, though priority will be given to graduate students from member institutions.
NOTE: The course requires fluency in English. Knowledge of Spanish is a plus. Students are encouraged to bring laptops and digital cameras to use for their projects.
LAB FEE*
A lab fee will apply to all—$1300* for students
in the U.S., Canada, and Europe, and $400* for those
in Latin America. While housing and travel costs are
separate, the Hemispheric Institute will negotiate
reasonable room and board rates. All local
expenses (performances, lectures, travel to local
sites, etc.), are covered by the lab fee.
APPLICATION DEADLINE
Sunday, April 5, 2015
APPLICATION GUIDELINES AND FORMS
hemisphericinstitute.org/hemi/en/summer-2015-mexico
Download the course flyer
ALL OTHER INQUIRIES
Esta dirección de correo electrónico está siendo protegida contra los robots de spam. Necesita tener JavaScript habilitado para poder verlo.