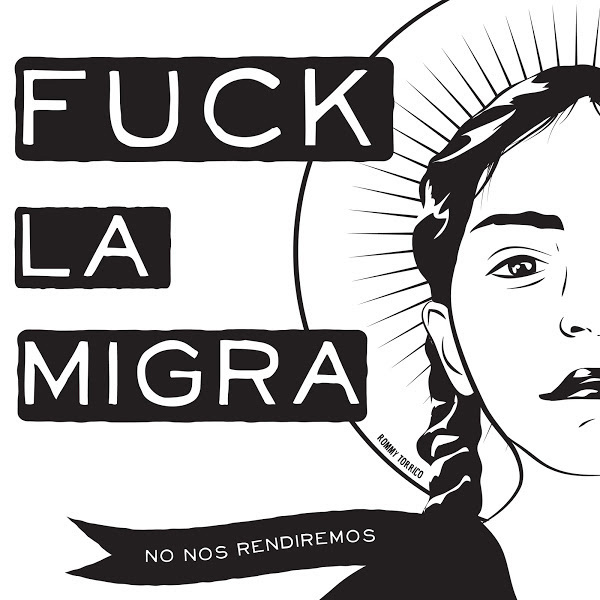 Thursday, June 22, 2017
6:30-8:30 pm
Live video broadcasting will be available here, beginning at 6:30 pm (EST)
RSVP on Facebook
"Re-imagining Existence" will be an intimate conversation between queer undocumented, formerly undocumented, and migrant artists, filmmakers, poets, performers, DJs, and writers discussing multidimensional, futuristic ways of existing, surviving, and creating during this heightened anti-immigrant political climate. The artists will discuss how they are expanding and recreating possible worlds without borders through poetry, virtual reality, music, and language. Performances will close the event.
Artists include: Frisly Soberanis Jr., Jennifer Tamayo, Alan Pelaez, Thanu Yakupitiyage, and Rommy Torrico.
Moderated by Sonia Guiñansaca.
Frisly Soberanis is a 23-year-old director and video artist, from Queens, New York via Guatemala. He grew up filming quinceañeras and bodas, and with the help of a wonderful community, has grown in the video and cinema arts. He is currently working as the co-lead for the Family Reunions Project, a 360° video/virtual reality project that explores how technology can challenge borders and reshape the way we think of memories and messages. The project has received funding from E4FC's Fuse fund, the Tribeca Film Institute's New Media (nonfiction) Prototype Fund, and Culturestrike, where he is currently an Artist in Residence. Frisly is interested in migration & borders, sci-fi, space, masculinity and other gender expressions, and wishes to explore how immigrant experiences might look in the next 200 years. He loves thunderstorms and family, loves chilaquiles (but can't take the heat), is fascinated with light and sound, and loves to play video games, especially ones with a great story.
Jennif(f)er Tamayo is a queer, migrant, latinx poet, Cancer/Leo essayist, and performer. JT is the daughter of Nancy, Flora, Leonor, Sol, and Ana. Her collections include [Red Missed Aches] (Switchback, 2011) selected by Cathy Park Hong for the Gatewood Prize (2010), Poems are the Only Real Bodies (Bloof Books 2013), DORA/ANA/GUATAVIT@ (RSH 2016) and YOU DA ONE (2017 reprint Noemi Books & Letras Latinas's Akrilica Series). Her essays and poetry have been published in Poetry, Best American Experimental Poetry, Mandorla: Writing from the Americas, Bettering American Poetry 2015, MICE, and Angels of the Americlypse; An Anthology of New Latin@ Writing. She has held a CantoMundo fellowship and is an EMERGENYC ('16) alum. Currently, JT lives in California and is thinking about resistant, decolonial practices of voice(ing). You can find their writing and art at www.jennifertamayo.com.
Alan Pelaez Lopez is a poet and adornment artist from Oaxaca, México. They are a contributing writer for Everyday Feminism where they write about Afro-Latinidad, queer and trans activism, and undocumented immigration. Their essays, poetry and political analysis have appeared in Black Girl Dangerous, Fusion Magazine, The Feminist Wire, Colorlines, and more. Recently, Alan has been named one of "10 Up and Coming Latinx Poets You Need to Know" by Remezcla magazine and one of "10 Poets for the Revolution" by Best American Poetry blog. Follow them at www.alanpelaez.com.
Thanu Yakupitiyage is a Sri Lankan-born, Thailand-raised, Brooklyn-based deejay, activist, cultural organizer, writer, and movement communicator who has worked primarily in the immigrant rights movement, and now in the climate justice movement. Deejaying under the moniker "Ushka," she challenges geopolitical and sonic borders, deejaying a wide range of influences from Soca to Cumbia, Hip-Hop to South Asian rhythms, Baltimore/Jersey club to rasterinha, vogues cuts to kuduro, and more. She co-runs a party in Brooklyn called iBomba that has been a notable people of color, queer, and immigrant-centered space for the last five years. Thanu believes that dancefloors are an essential site for organizing and community building. You can follow at www.djushka.com or on twitter/ instagram at @ty_ushka.
Rommy Torrico is a queer, undocumented artivist born in Iquique, Chile, raised in Naples, Florida, and has recently moved to NY/NJ. Rommy has been involved in the (im)migrant rights struggle for several years and infuses much of their work with personal experience and the stories their community shares. Their work has been exhibited in California, DC, and NYC. You can find more about them on RommyTorrico.com and follow them on IG: @Rommyyy123).
Sonia Guiñansaca: Queer Migrant Poet, Cultural Organizer, and Activist from Harlem by way of Ecuador. Guiñansaca has founded some of the first creative artistic projects and performance spaces by and for migrant undocumented writers/artists. Guiñansaca a VONA/Voices alumni has performed at El Museo Del Barrio, The Nuyorican Poets Cafe, NY Poetry Festival, Galleria de La Raza, and featured on NBC, PBS, Latina Magazine, Pen American, and the Poetry Foundation to name a few. She has presented keynotes, workshops, and panels at universities throughout the country. Named as 1 of "10 Up and Coming Latinx Poets You Need to Know" by Remezcla, as well as one of 13 Coolest Queers on the Internet by Teen Vogue, and a 2017 Artist in Residence at the Hemispheric Institute. She is now the Managing Director at CultureStrike, a national arts and culture organization rooted on cultural and narrative shift. Follow their work on Twitter/IG: @thesoniag or SoniaGuinansaca.com.