A special event hosted by MUMA in the Carillo Gil Museum, "Dialogue on the experience of being a woman and artist," on Saturday March 7. In 2009, four virtual exhibitions were organized on nature, sexual identity in art, technology, feminism and the city:
"Art and nature" coordinated by Lucero González.
"Diverse affection" a selection of works by Karen Cordero.
"The city of women" under the curatorship of Sylvia Navarrete.
"Policies of immediacy" prepared by Karla Jasso.
In 2009, after a year of existence, the Mexican Women Artists' Museum (MUMA) extended its activity as a virtual, active and purposeful space, staging four exhibitions throughout the year to address crucial topics and authors in contemporary artistic reflection. Nature, technology and feminism as well as challenging stereotypes of sexual identity and the representation of the individual in the city are some of the objects of research of artists such as Maru de la Garza, Teresa Margolles, Gabriel de la Mora, Helen Escobedo, Dulce María Núñez, Valerio Gamez, Magali Lara, Miguel Ventura, Estrella Carmona, Marcela Armas, Carlos Arias, Mónica Castillo and Mariana Gullco. They produce graphic art, painting and installations in the "Art and nature", "Diverse affection", "The city of women" and "Policies of immediacy" collectives in the MUMA spaces on a quarterly basis.
Moreover, to encourage direct dialogue with artists regarding the preparation, production and dissemination of their work, MUMA will hold a meeting on Saturday March 7 at the Carrillo Gil Museum called "Dialogue on the experience of being a woman and an artist," as part of the activities of International Women's Day. On this occasion, each artist will speak about the preliminary process, the choice of subjects, mediums and materials, as well as the channels of dissemination, distribution and promotion of this work and subsequently exchange ideas with the audience. Participants include Helen Escobedo, Ale de la Puente, Lorena Wolffer, Gissel Rascón, Elizabeth Romero, Sarah Minter, Karla Jasso and Naomi Rincón Gallardo. The meeting will take place on March 7 from 11 am to 3 pm in the Carrillo Gil Museum (1608 Avenida Revolución, on the corner of Altavista, San Ángel).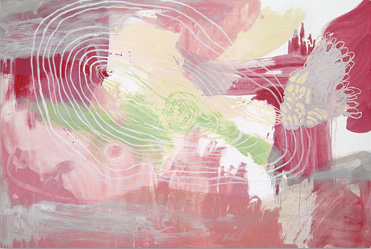 A Mosaic of Exhibitions
Displayed on the MUMA webpage until late March, "Art and nature: The power of small things" is an extended version of the collection curated by Lucero González, featuring work and installations by Helen Escobedo, Mariana Gullco, Magali Lara, Claudia López Terroso, Emilia Sandoval, Ana Santos, Berenice Torres, Gissel Rascón, Diana Mendieta and Jessica Wozny. It involves various readings of the body, territory, memory and geographic, physical and symbolical natures, in which "the landscape can be interpreted in unexpected ways," as Magali Lara writes in the text accompanying the exhibition, originally staged last October in the Henestrosa Library in Oaxaca City.

After this first event, MUMA will house the exhibition "Diverse affection. Genders in flux" in April under the curatorship of Karen Cordero. This will consist of a selection of 15 works by 15 artists, addressing three core topics: house, body and matter. This virtual exhibition is a preview of the extended collection displayed during the second semester of 2009 for the reopening of the Chopo University Museum. It includes the following artists: Carlos Arias, Mónica Castillo, Maru de la Garza, María José de la Macorra, Gabriel de la Mora, Mariana Dellekamp, Daniela Edburg, Valerio Gamez, Magali Lara, Miguel Ángel Madrigal, Carmen Mariscal, Katia Olalde, Irma Sofía (Eduardo) Poeter, Héctor Velázquez and Miguel Ventura.
In July, MUMA will stage a group exhibition of paintings, "The City of Women", curated by Sylvia Navarrete. Navarrete presents a historical journey focusing exclusively on painting by women from 1980 to the present to analyze the aesthetics created around various myths regarding large cities, the domestic space, the body, urban sensibility and representations of the individual in the city. The artists selected for this exhibition are Liliana Mercenario, Dulce María Núñez, Liliana Duering, Laura Quintanilla, Rocío Maldonado, Estrella Carmona, Gabriela Gutiérrez, Claudia Fernández, Alejandra Contreras, Naomi Rincón Gallardo, Marisa Lara, Marta Pacheco, Teresa Margolles, Elena Climent, Manuela Generali, Sylvia Ordóñez, Inda Sáenz, Melanie Smith, Marcela Armas, Colectivo Citámbulos and Colectivo Martes.

Join MUMA. Take part!
One of the most popular spaces in MUMA is the Video section, which constantly updates its materials and features Play!, an anthology of videos, video-performances and video-action curated by Grace Quintanilla. It includes work from 2008 by Angélica Chio, Larisa Escobedo, Paola Esquivel, María Ezcurra, Gabriela León, Luna Maran, Ale de la Puente, Vanesa Quintanilla, Paula Sabina and Katri Walker.
The Forum is a space devoted to exchange, offering an open invitation to institutions, artists and the general public to submit information on cultural activities and exhibitions - of visual art in particular – to be shared in this network of analysis, reflection and debate. The Forum welcomes articles on culture, feminism and other topics that encourage intelligent dialogue.
Visitors interested in the Exhibitions section can browse images of the current collection, "Art and nature", visit previous exhibitions, such as the collection of performance art "Documentary altercations," in which artist Lorena Wolffer presents a selection of work by Andrea Ferreyra, Mónica Mayer, Edith Medina, Katia Tirado and Pilar Villela.
The Library also brings together various reflections on cultural and artistic movements, including those by writer Elena Poniatowska.The National Museum of Mexican Art has embarked on the task of rescuing numerous forgotten artists from oblivion, and Cordelia Urueta, Isabel Villaseñor, Lola Cueto, Rosa Rolanda, Leonora Carrington and Kati Horna are among the 27 women who have contributed to the face of Mexico from 1980 to the present. MUMA's Gallery constantly expands its collection of artists working in painting, sculpture, photography, video, performance art, installations and interdisciplinary arts.
MUMA's Advisory Council is composed of Lucero González (photographer), Helen Escobedo (visual artist), Karen Cordero (art historian), Magali Lara (painter), Lorena Wolffer (visual artist), Marisa Belausteguigoitia (academic in cultural studies), Mónica Mayer (performance art), Sylvia Navarrete (art researcher and critic), Josefina Alcázar (researcher) and Angélica Abelleyra (journalist).
February 2009