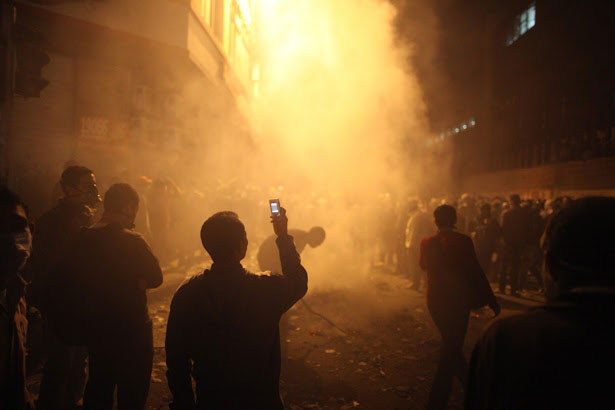 Protesters gather for Tahrir Square rally, November 23, 2011. Photo by Peter Macdiarmid/Getty Images.
San Francisco Museum of Modern Art
"Bearing Witness: A Symposium on the Conditions of Photography Now"
Sunday, March 16, 2014
Hours: 10am–5pm
Free with pre-registration
Yerba Buena Center for the Arts, Forum
701 Mission Street
San Francisco, CA 94103
www.sfmoma.org
Given the power and pervasiveness of photography in both art and everyday life, what is the significance of the rapid and fundamental changes that the field is undergoing? How have social media, digital cameras, and amateur photojournalism altered the way photographs capture the everyday, define current events, and steer social and political movements? How have photographers responded to these shifting conditions, as well as to the new ways in which images are understood, shared, and consumed? How have our expectations of photography changed? "Bearing Witness," a one-day symposium hosted by the San Francisco Museum of Modern Art (SFMOMA), considers these questions and assesses the ways in which photography matters now more than ever.
Participants
Pete Brook, blogger for Wired and writer and editor of prisonphotography.org
David Guttenfelder, chief photographer in Asia for the Associated Press
Susan Meiselas, photographer, Magnum Photos
Margaret Olin, senior research scholar, Yale University
Kathy Ryan, director of photography, The New York Times Magazine
Zoe Strauss, artist
Additional participants to be announced
Convened by Erin O'Toole, associate curator of photography, SFMOMA, and Dominic Willsdon, Leanne and George Roberts Curator of Education and Public Programs, SFMOMA, "Bearing Witness" is made possible by generous support from the Fraenkel Gallery Fund for New Studies in Photography.
"Bearing Witness" is preceded on March 14 and 15 by "Visual Activism," a two-day symposium that explores relationships between visual culture and activist practices. Both are presented in conjunction with the exhibition Public Intimacy: Art and Other Ordinary Acts in South Africa, jointly organized by SFMOMA and Yerba Buena Center for the Arts (YBCA), on view at YBCA from February 21 to June 29.
Free with pre-registration