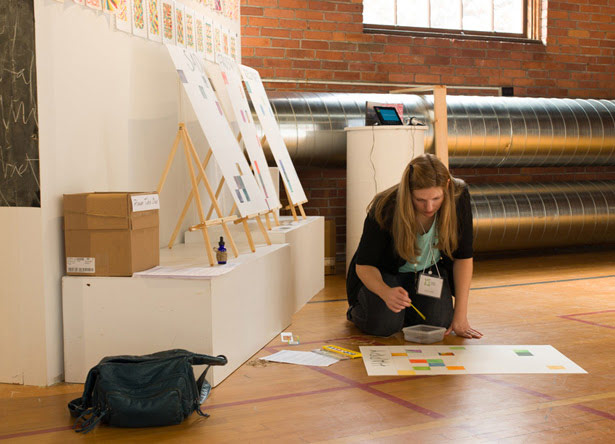 MFA in Graphic Design student Victoria Pitt, '14. October 2013. © Anthony Pagani.
Vermont College of Fine Arts (VCFA)
VCFA MFA Graphic Design: call for applications
Spring residency: April 13–19, 2014
Vermont College of Fine Arts
MFA in Graphic Design
36 College Street
Montpelier, Vermont 05602
Esta dirección de correo electrónico está siendo protegida contra los robots de spam. Necesita tener JavaScript habilitado para poder verlo.
www.vcfa.edu/graphic-design
Vermont College of Fine Arts is still accepting applications for its landmark low-residency MFA in Graphic Design's spring semester. Apply now to this unique MFA program and learn how to deepen your creative practice and expand your professional opportunities.
There is still scholarship money available.
The MFA in Graphic Design at VCFA is unique not only because students come from diverse creative fields and professions, but also because our faculty areas of expertise range across the many related areas of design inquiry. Photography, motion graphics, printmaking, and book arts are all examples of the creative endeavors that find their place in our program. Students complete five on-campus residencies in Montpelier, Vermont, interspersed with four semesters of close mentorship and investigation in their home studio.
The MFA in Graphic Design is structured to provide maximum flexibility for the working creative.
Take a look at these short faculty videos to learn more about their talents and interests.
Visit the Admissions page here or contact an admissions counselor directly here.