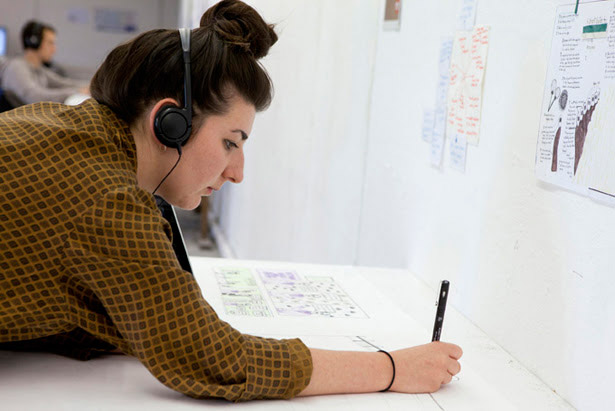 Course of Sarnath Banerjee, Hohensalzburg Fortress, 2013. Photo: Ruth Ehrmann.
Salzburg International Summer Academy of Fine Arts
Curatorial courses and The Art of Writing
21 July–30 August 2014
Applications due: 15 May 2014
T +43 662 842113
Esta dirección de correo electrónico está siendo protegida contra los robots de spam. Necesita tener JavaScript habilitado para poder verlo.
www.summeracademy.at

Anders Kreuger, renowned curator of the M HKA in Antwerp, and co-editor of Afterall, and Nancy Adajania, co-artistic director of the 9th Gwangju Biennale 2012, will direct two courses in curatorial theory and practice this summer. And for the first time, freelance writer and critic Jennifer Allen, former editor of frieze d/e, will direct a trilingual course in critical writing.
Anders Kreuger
Visual Thinking for Curators
The course of Anders Kreuger will cooperate closely with the artistic course of Olga Chernysheva and Anna Jermolaewa. The overall aim is to critically explore the boundaries between thinking alone (which artists often like to do) and thinking together (which curators must always do), and also to bridge the gap between "making" and "using" images.
Duration: 21 July–2 August
Fee: 680 euros (reduced 520 euros)
Further details
Nancy Adajania
Curating the Boundary Condition: Encounters with the Outside
The cultural theorist and Bombay-based independent curator Nancy Adajania explores in her course the productive challenges facing curatorial activity at the boundary between various kinds of inside and outside. Participants will be encouraged to research and produce their own "Museum of excluded contents."
Duration: 18–27 August
Fee: 560 euros (reduced 440 euros)
Further details
Jennifer Allen
The Art of Writing
Writing is a challenge for everyone, but especially for people in art, because we must translate a complex, three-dimensional, bodily experience into tiny black letters on a flat plain surface, whether screen or page. This workshop is designed for everyone who would like to revamp their relationship to writing: artists, curators, critics, even experienced theorists.
Duration: 25–30 August
Fee: 440 euros (reduced 360 euros)
Further details
Regular application
The Salzburg Summer Academy is open to anyone interested. The high quality of the courses is guaranteed by the requirement that all prospective participants must apply for acceptance. On the basis of the submitted dossier, the teaching artists select participants. The fees are between 440 euros and 1,160 euros, depending on the duration of the course. Students are entitled to a reduced fee. All applications received by 15 May will be treated equally. Later applications are welcome, and will be processed in the order received, according to vacancies in the courses.
Further details