Open call for applications: Food Water Life residency with Lucy + Jorge Orta at Banff Centre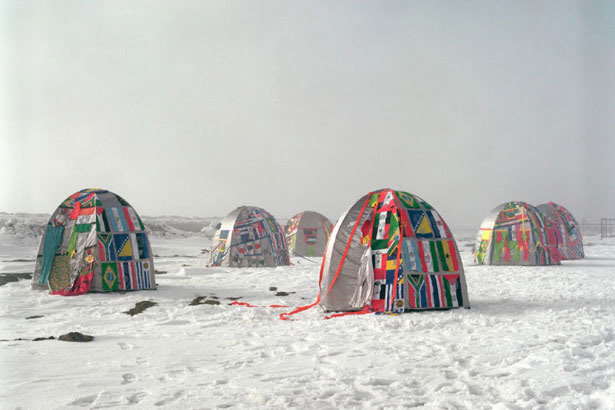 Lucy Orta + Jorge Orta, Antarctic Village, 2007. Site-specific installation of 50 original dome dwellings hand-stitched with nation flags, fragments of clothing, and silkscreen printed. Photograph: Thierry Bal.
Banff Centre
Open call for applications: Food Water Life residency
January 19–February 27, 2015
Deadline extended to: July 16, 2014
The Banff Centre
Office of the Registrar
107 Tunnel Mountain Drive
Box 1020
Banff, Alberta
Canada T1L 1H
www.banffcentre.ca/programs

Share this: Facebook | Twitter
Visual Arts residency programs offer opportunities for artists to engage with world-renowned faculty and peers, and gain new insights into the development of their work. Access to extensive facilities in photography, sculpture, printmaking, papermaking, ceramics, fibre, painting, performance, media arts, film, and video is available.
Food Water Life with Lucy + Jorge Orta
The Food Water Life residency asks artists to explore concerns such as biodiversity; environmental sustainability; social economy; human rights; and envision a new world of tomorrow. Artists working across all mediums who share a deep interest in these issues are invited to gather, brainstorm, and create with Lucy + Jorge Orta. Financial aid is available.
Find out more.
Banff Artist in Residence late winter Intensive
Dates: March 9–April 3, 2015
BAiR Intensive is a four-week independent studio practice program. Participants are provided a studio space to create, research, and experiment, while being part of a community of artists, curators, and creative researchers each committed to their practice. This program includes opportunities for studio visits, artist presentations, and lectures.
Application deadline: September 24, 2014
Find out more.
Walter Phillips Gallery at The Banff Centre
Piano Destructions
Andrea Büttner
through July 20, 2014
Be Mysterious
Mark Clintberg, Rebecca Baird, Patrick Jackson, Daniel Jacoby,
Joo Choon Lin, Alex Morrison, Brent Wadden
August 2–October 19, 2014
For more information
Office of the Registrar:
Esta dirección de correo electrónico está siendo protegida contra los robots de spam. Necesita tener JavaScript habilitado para poder verlo.
/ T +403 762 6180 or +1 800 565 9989